Obi-Wan Finale - The Loop
Play Sound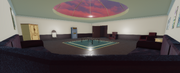 Mr. President's rooms - Set of rooms located under the map, being part of Mr. President stand ability.
Appearance
The room itself is around 5x5x2 meters big, with brown floor, creamy walls and ceiling, and red circle made out of glass covering half of the ceiling showing the sky. In the middle of the room there is a green caprpet with wooden table on top of it, a cabinet, two red arm chairs, big red sofa, creamy wardrobe, an open door leading to a closet, and five pictures showing Joycon Boyz logo, Under World, Hol Horse with Emperor, New Moon Enrico Pucci and Coco Jumbo with Mr. President. The room also contains Bloxy Cola fridge, which can be used only by invited players and Mr. President's user himself. The fridge can hold up to 6 drinks and regenerates one once for 7 seconds.

How to access
Rooms can be accessed through Mr. President's moves, each copy of the stand has it's own room. You can access the room either as a guest, which means that all attacks deal no damage to you, you can use Bloxy Cola fridge and your health regenerates, or as kidnapped, you receive damage, can't use the fridge and can't leave the room for a few seconds.